*** Testimonials ***
ONE OF MANY SATISFIED CLIENTS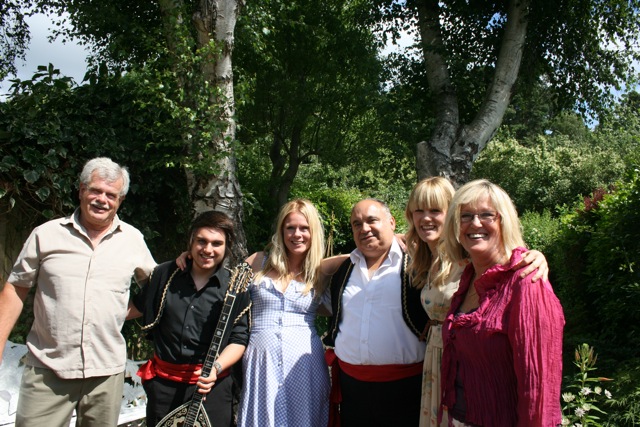 BIRTHDAY PARTY WITH GREEK FLAVOUR
*** Corporate Events ***

We just wanted to thank you for doing such a wonderful job on the GREEK NIGHT.
After dinner was served, everyone was on the dance floor. Thanks again!
Kostas (Olympic Airways) - GREEK NIGHT - Croydon
You brought our Greek evening to life!
With their musical talents and variety of Greek music, song and dance, they captured the mood of the evening.
To the degree their music had all the guests dancing Greek style!
Thank you for helping make the evening so successful.
Club President - GREEK NIGHT Charity Event - Chichester



Just to say that we had the most fantastic evening as did all of our guests! Really looking forward to doing it again!
Thank you so much for coming all the way to make our Greek evening so special. All best wishes to yourself and the rest of the band.
Chris and Lindsay - GREEK NIGHT Charity Event - Pavilion - Broadstairs
The performance was great. Regards Harry
Harry - National TV - CH4 Come Dine With Me - Hampstead, London
Thanks for a wonderful evening.
Everybody commented on your ability to entertain young and old alike, and my wife and I would like to personally thank you for making our themed night a true success and we are 100% sure you will be back by the riverside very shortly as they are already planning a mama mia night with a twist. Once again efharisto poli
Peter - GREEK NIGHT - Yacht Club, Surrey


Many thanks for a great evening --- your music was just right for the occasion, and we have had many phone calls, e-mails and text messages from our guests congratulating us on a fantastic party. I think you managed to get everybody dancing by the end—even those who usually stay in the corners or hide in the kitchen. Many thanks to you –we would certainly use you again and would recommend you to anybody else wishing to have a great party.
Fred - GREEK PARTY – Kent
It was a pleasure having you to play on our Greek Night at Shoreham and the people that were here enjoyed it very much.
Sue - GREEK NIGHT - Shoreham by Sea

May I just say quickly that we really enjoyed the evening too!
The performance was excellent, we were so pleased to see so many customers encouraged to dance, and we have had some wonderful feedback from our guests regarding the evening.
I always write reviews of our events to promote the themed evenings on our website and the report on our Taste of Greece evening is now available there.
I have also pasted the review to this e-mail - please feel free to use whatever you need for your own site and recommendations.
Once again, thank you so much for a lovely night!
Amy (Restaurant Supervisor) - GREEK NIGHT


Just to say thank you once again for last Saturday Night, the music and entertainment was best ever.
Judi - GREEK NIGHT - Hastings


I must thank you for your wonderful entertainment you provided on Saturday evening, not only the Greek Music which was outstanding and fun, but to finish the evening with well known English Dance songs was great. The response I have had from people who attended has been encouraging and worth all the hassle of organising. Thanks once again and remember next time you are in Wales, there will always be a welcome in the hillside!
Colin - GREEK NIGHT - Powis Rotary Club


Greek music that you played at the theatre was exactly what we were looking for and your interaction with the audience by getting them to clap along and dance added to the enjoyment of the day. I saw several people dancing during your performance and you have been mentioned in the questionnaires which we gathered at the end of the day.
Chris - GREEK THEME Theatre Performance - Hornchurch


Many thanks for your performance last Sunday, you all really added to the atmosphere. If we opt for a Greek theme in future, we'll be in touch.
Jo (Manager) - GREEK THEME LUNCH - Wentworth Club Ltd, Surrey


Thank you so much for Friday night, everyone had a great time and you were brilliant. We will definitely be looking to do one again soon and will be in touch later in the year to arrange it with you.
Liza Wilkinson - GREEK NIGHT - Golf Club, Worcestershire


I felt that the evening was a great success, the balance throughout was just right and I know everybody enjoyed your choice of music.
Thanks a lot.
Robert - GREEK NIGHT - Private School, Surrey


Thank you so much for Friday, everybody commented on the evening, we've had so many 'thank you' notes - it was a huge success.
Look forward to working with you again.
Spiro - GREEK NIGHT - Cardiff


I would like to thank yourself and your band members for giving us such a wonderful evening. We have had nothing back positive feedback regarding the whole evening, you even managed to bring a little piece of Greek sunshine with you!
Michelle Taylor - Charity Raising Ball - West Sussex


Thank you for your performance, it was thoroughly enjoyed by everyone and including the Greek menu the hotel provided our members and suppliers have said that it was one of the best Friday nights for a long time.
Lindsay - Greek Olympic Night - Whittlebury Hall Hotel


You were fantastically entertaining and energetic!
You really worked our customers! They all had a brilliant time, so thank you very much for all your hard work and enthusiasm.
Jay Robertson - Greek Night - Great Bircham


Big 'thank you', everyone is talking about the last night and can't wait for the next one!!! Thanks for everything, will be in touch to arrange another one in the new year.
Spiro - Greek Night - Cardiff


Hi Yorgos.
Many thanks for making our first ever Greek themed night at The Barleycorn inn Collingnbourne, Kingston as success
From the moment you both started playing till the end was great, all the locals loved the evening and as you could tell at the end asking for more.
We cant wait to do the next one
Thanks for a great night.
Craig Kostas - Greek Night - Marlborough
*** Birthday Parties ***
Your music created a wonderful atmosphere, which reminded us of our good holidays in Cyprus.
It was a great night and everyone said how much, they thoroughly enjoyed your music.
We would highly recommend you to anyone thinking of having a live band at their special occasion!
Kerrie and David - Rotherham
We had a great night on my 40th birthday, which was made all of the better by having you entertain us.
I was entering into the unknown and did not know how things would turn out, given we had not met and I phoned from an Internet advert. Yet from a couple of phone calls with you, I realised that I had made the right choice and I must say you have lived up to expectation (and more) from the outcome of the night.
A great combination of true Greek music alongside a few great dance songs to keep even the true "UK" people involved.
I even had people who never get up to dance anywhere up on the dance floor and even I have not been able to do that in the past 20 years.
I also have some great memories and some better photos and all of my guests still commented on a daily basis how great the night was, so many thanks and keep up the good work.
I am happy for you to refer potential future clients of yours to me so that I can give them comfort that they are making the right choice.
Stuart Talliss - Croydon



Just to say thank you for Saturday, every one agreed that your two hour spot really set the party a light.
So thank you very much.
All of the family will recommend you to their friends.
Paul - Leeds


I felt I must write and thank you for sending us this great band for my 70th birthday party - not to mention the belly dancers.
Some of the most unlikely people joined in!
The music was great and the dancing was fun, especially the moonlit Greek Conga around the car park.
I must do it again when I am 71.
Mrs Robins - Fordingbridge



The band played for two hours as background music at two 60th birthday lunches held at our home in our conservatory.
The sound was just right and did not overwhelm our small groups whilst they enjoyed their Greek meals and yet at the same time brought tremendous atmosphere to the event - they transported us to Greece!!
Sally Clark - Staines


The quality of music was truly authentic and both children and adults were kept dancing well into the night!
The Greek evening became an unforgettable occasion and one that I would highly recommend.
Peter Mulhern- Isle of White


" In my experience Orpheus Entertainment proved to be reliable, conscientious and delivered the goods."
Peter - Eversley, Hants


I don't know what we would have done if you had not been free!
I've had very good feedback from everyone - they really enjoyed the music and your colleague was really good on the DISCO as well.
It was just really special to have Greek music.
We went back to the hotel yesterday to finalise things and apparently they also thought the Greek music was good and they said would put you on their list of recommendations.
Nicky - Swindon


Thank you Yorgos for a wonderful afternoon.
Everybody enjoyed it very much.
My birthday was wonderful and so great to see people up dancing or trying to dance even.
You created a wonderful atmosphere and I would highly recommend you for any other event.
Catherine Lockett - Events and Marketing Director - Middlesex


The Orpheus Duo played the music and led the dancing, including Zorba's Dance at my husband's 70th birthday party. They were excellent and everyone loved their repertoire. Even the shy ones were up dancing. Yorgos's singing voice has a smooth velvety tone, and having seen them once before a couple of years ago, we were delighted to actually have them for our private party. I would thoroughly recommend them as they proved to be exceptionally talented and down to earth. Thank you Yorgos for making a special day extra special.
Rachel Hyde - Gloucester


Dear Yorgos, thank you so much for helping to make Fiona's 50th birthday party such a fantastic evening.
Romanzo is a first class Greek Cypriot restaurant, so friendly and welcoming with good food but it was made all the more special thanks to your excellent music which everyone remarked on as creating a really special atmosphere.
Romanzo staff were dancing in the kitchen!!
Once again my sincere thanks for making Fiona and all her guest so happy. Kind regards.
Charlie – Bournemouth
*** Baptisms ***
Good morning Yorgos!
Just wanted to thank you and the band so much for yesterday.
The music was perfect! We had a lovely time.
Your band is actually the best Greek band we have heard at weddings, christenings.
I am happy to write this review on your website.
My sister in law is getting married next year so we will give her your details.
All the best and thanks again.
Kate & Anthony - Palmers Green, London


Thank you for doing such a wonderful job on our Christening.
Maria - Southampton


Thank you so much for playing at our son's christening. The music was perfect. We all had a lovely time. Your band is actually the best Greek band we have heard play at christenings, weddings etc. We have had lots of lovely comments from our guests about your music too. We hope to see you again at our next big family occasion.
Kate Pittaros – Islington



*** Weddings ***

All of the music was fantastic! You guys are the best!
George - Liverpool


The band were excellent on our wedding. Everyone enjoyed themselves and people wanted to continue dancing. Thanks for everything.
Nick – Croydon


Many Thanks for your efforts on our wedding day, we were very impressed with everything. On the whole we thought you were excellent. We enjoyed your choice of songs, you created an excellent atmosphere and we thought it really got the party started. Many Thanks again.
Chris & Claire - Dartford


Thank you very much for a fantastic evening on our wedding! All our friends and family, both English and Greek really enjoyed the music and the entertainment and of course so did Steve and I
Rena & Steve – Battle


Thank-you for playing at my wedding, everyone commented how brilliant the music was. It was a good sign when I saw people up and dancing before the meal was over and the music definitely helped put people in a relaxed and a happy mood
Leanne & Andreas – London


We all had a FANTASTIC time on Saturday. It was an amazing day, and EVERYONE enjoyed your music/dancing. Many thanks for putting on such great music for us. We have had many of the wedding guests comment on how great you were and as you witnessed yourselves- the dance floor was constantly full with people dancing and having a fantastic time. We hope that you enjoyed the evening too, I know you were working, but we hope you had a nice environment to work in and that you enjoyed yourselves. It was my brothers wedding, and I found you through the Boogieland website. At my wedding I had a different Greek band- who were great, but I will say that I thought you were better, and that I would recommend you to other people. I am sure that there will be other functions amongst my family and friends who may ask for your contact so I will keep you in mind and pass on your details- I hope that's ok. You were all great and also very professional. My parents, brother (Bride and groom) and extended family and friends all thought that you were fantastic and had a great time. We wish you all the best in the future and thank you for such a great evening. Maybe we will get to hear you again. I have attached some photos for you from the evening. There are many more fantastic photos of the band and the dancing. I can send you more
Ann - Witney, Oxforshire


On behalf of myself and my wife i would like to say a big thank you to all the members of the band for making our wedding reception such a special event. The music was outstanding and all guests were impressed. Thanks again.
George - Watford Hilton Hotel


The music and entertainment you have provided on my sister's wedding was great, everyone got up and danced and it really set up the party atmosphere, I wouldn't hesitate in recommending you for future events. Thanks
Ana – London


Orpheus helped to make our event complete. They were professional and punctual right from my initial enquiry to the actual day itself. We really enjoyed their music and they know how to 'read' a crowd in terms of what tempo and type of music to play. They helped make the wedding an unforgettable day and we would not hesitate to use them/recommend them.
Olga Houghton - Surrey


I just wanted to say thank you so much for helping to make my special day perfect in every way, and I will recommend you to anyone in the future planning their wedding/parties.
Michelle - Menzies Prince Regent, Loughton, Essex


We have had so many cards and e-mails from wedding guests saying that it was the best wedding they have ever been to, and a lot of the credit for that must go to your band. People have been telling us non-stop how much they enjoyed the music and dancing. The lady who heads the catering company - who has seen a lot of wedding receptions - also said that it was the best she had attended and she gave the credit for that to you and your musicians. We were particularly impressed with details like the fact that you had excellent recorded music playing whilst you were unpacking at the beginning of the evening and packing up at the end so that everyone could carry on dancing. The singing and musicanship were absolutely first class. And considering how few of the guests were Greek, it was a great tribute to the wonderful music and your very talented dancer that all the guests were up and dancing and thoroughly enjoying themselves throughout the evening. Dean and I were particularly grateful that you were willing to play on at the end of the evening. It was a wonderful evening and I hope you enjoyed it too, despite having to travel such a long way in such bad weather to reach a little village hall in the middle of Wales. You certainly gave everyone a lot of pleasure. Once again, thank you very very much.
Lynette - Powys (Wales)


Thank you very much for your absolutely fantastic performance on our wedding celebration. I have no doubt whatsoever that this made the evening and you were the taking point during and after the event. I will email to you some photographs when we get back from our honeymoon. Please also thank the other members of your band who were also great.
Dean - Wales


Thank you very much for putting on such an enjoyable & professional service, the Greek Band did not disappoint in any way and besides myself and my husband, our guests too thoroughly enjoyed the band and as you know voted with their feet and danced. Thank you once again.
Denise and Bruce - Witney, Oxfordshire


"Yorgos engaged and entertained our wedding guests, ensuring they all had a great night. Guests were on their feet participating with the Greek dancing. A brilliant evening!
Elissa (Event Manager) - Mariot Hotel, Manchester


We are only just back from our honeymoon. Some of our friends and family described you as one of the highlights of the wedding, and you were very popular with all of us! Me and my new husband would like to thank you for providing such fun and lively entertainment, and for helping to get everyone on the dance floor that might otherwise have stayed at their table! We have some great photographs and memories, so thank you once again.
Sophie and Tony - Cambridge


My husband and I would like to thank you for the fantastic entertainment you provided at our wedding reception! You really made our day very special and 8 months on you are still the talk of the town! People from all over who attended the wedding say it was the best reception they have attended in a long time. One guest saying 'The Greeks really know how to party! Even the people who were not dancing were entertained by your music and enjoyed the night very much. We really appreciated the way you guys interacted with the guests and got everybody going! We will definitely recommend you to everyone we know. Photos to follow.
Thanks again for a truly unforgettable Wedding Reception.
Irini - Berkshire


Thank you very much for performing at our wedding.
Us and our guests had a lovely time enjoying your live music.
Thank you also for playing the music we requested in the DISCO and for keeping everyone entertained until the very end.
Everything you did on the day was perfect and I would gladly recommend you to friends and family.
Andrea Walsh - Palmers Green, London


I just wanted to say a HUGE Thank You Orpheus, for your performance and Dancing last night on my wedding. It was a fabulous and really made the day special. Many thanks again – we will keep you in mind for future parties?
Sophia Agamemnos - Dyrham Park


Thank you very much, everybody loved the Greek music and dancing, you definitely provided what we needed, good authentic Greek music.
Michael Antoniou - Cobham Hall


Kristel and I, would like to thank your band for the fantastic entertainment at our wedding! All of the guests enjoyed the music and we were very impressed with the Live music, DJ and the Lighting Effects. We will happily leave feedback on your website as well and will highly recommend the group to friends & family. Thank you again. Lots of love,
Alexis& Kristel - Chigwell


Thank you for the entertainment you provided us with for our wedding. Everyone was impressed. A few people asked for your details to use you for their own events and we have never seen so many people up on the dance floor! It was a fantastic day and the music definitely added to the atmosphere!
Eleni - Cardiff


Thank you for your contribution on what was a very special day for us. Everyone had a great day and we enjoyed the music very much.
I think it is good idea to have a dancer to demonstrate and encourage the none Greeks to participate.
Thank you again for entertaining us.
Norma Erotokritou - Hatfield


Thank you so much for the fantastic music you provided at our wedding.
All the guests enjoyed the music and you got them all up dancing.
You were professional but fun and helped made our wedding a memorable one.
I can not thank you enough for your hard work and the dancing was brilliant.
Thank you again.
Helen & Roy - Hertfordshire


We were really pleased with the band 100%A+++++++
The guys sang and played beautiful everyone really enjoyed the time.
"Guys words can't describe your performance during our one life event - wedding, you have to see it with your own eyes.
Your music brighten up our day entertain the guests and us.
We enjoyed every minute and we will always remember it.
Thank you for making our day really special."
I would recommend Orpheus band to any couple who would like to have great time over one life occasion.
Moreover it was an unforgettable experience, which will remain in our memories forever.
Well done guys keep going !!!!
Ellie & Mihai -Bedford


When Orpheus played at our wedding the atmosphere of the whole day was fantastic and we truly believe that the main reason was the music. We had never seem so many people up dancing at the same time. The music was fantastic and everyone that attended our wedding have commented on what a fantastic band they were. We would have no hesitation in recommending them. The communication, the value for money and the service they provided was first class and contributed to what has proved to be a truly memorable day for us! Hope to use them again in the near future!!
Eleni Brice - Barry


We had Orpheus perform at our engagement party for a group of mixed guests including some Greek and some not.
Everybody had a wonderful time and some guests enjoyed being taught the Greek dances. The boys are brilliant, catered to all tastes and ages and helped our party go with an Opah! Will definitely be using them again and would recommend to anyone. Thanks !!
Chris& Stacey – Great Yarmouth


We booked the band to perform at our wedding and they were fantastic. They got our guests up and involved in the Greek dancing and everybody had a brilliant night! 100% happy and would recommend to anybody..
Paul Gauci - Cardiff


Great fun filled evening of entertainment… Appreciated not only by Greek family but also friends from all parts of the world.
Geraint Holmes - Cardiff


We booked Orpheus Entertainment for our daughter's wedding. The guests were mainly Brits with a few Greeks. But right from the beginning everyone enjoyed the mix of Greek, Latin and English music provided by the band. Orpheus provided entertainment for a very mix age group, and everyone remarked how well they had made sure that everyone's taste in music was catered for. I wouldn't hesitate to book them again.
Jan Marakas - Greavesend


Greek and UK guests thoroughly enjoyed your music and it was great to get everyone dancing. Lots of fun was had by all, efharisto.
Ayse Fasoulas - London


I would like to take this opportunity to thank you most sincerely for attending our wedding and entertaining our guests. We could never have imagined the extremely high quality of the performance with a very reasonable cost which went a long way to making our wedding the best day of our lives. I would highly recommend this band to anyone thinking of their future wedding to ensure as much success as we have enjoyed.
Peter Barber – Hemel Hempstead

"*** Orpheus ENDORSED by STAVROS FLATLEY ***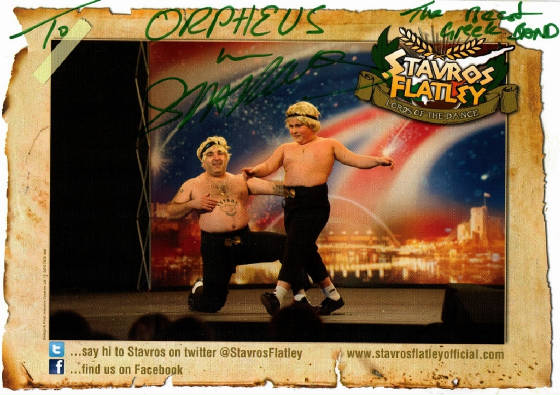 "*** ORPHEUS - THE BEST GREEK BAND ***